Overview
VIEW CONFERENCE PROGRAM BELOW The voice of the Australian veterinary profession celebrates its Centenary in 2021. To mark this milestone, the AVA will present a special virtual conference that will reflect on the AVA's long and rich history, and also look forwards towards its future. The conference will run over 5 nights, from 29 November 2021 to 3 December 2021 and registration for the event will be included as part of the VetFest 2021 package. Centenary Week will provide opportunities to expand your knowledge in the clinical and professional development space, with the program including key speakers from across our profession VetFest is the AVA's Virtual Conference Platform. For one cost, you will get access to over 150 hours of content, with more conferences planned for 2022. Current and upcoming events: - VetFest 2021. Over 100 sessions with local and international experts. - VetFest Marketplace. A dedicated industry week for the veterinary profession. Starts 22 Nov 2021 - Centenary Week. Celebrating 100 years of the AVA. Starts 29 Nov.
Who should attend
Student | New Graduates | Veterinarians
Learning outcome
Program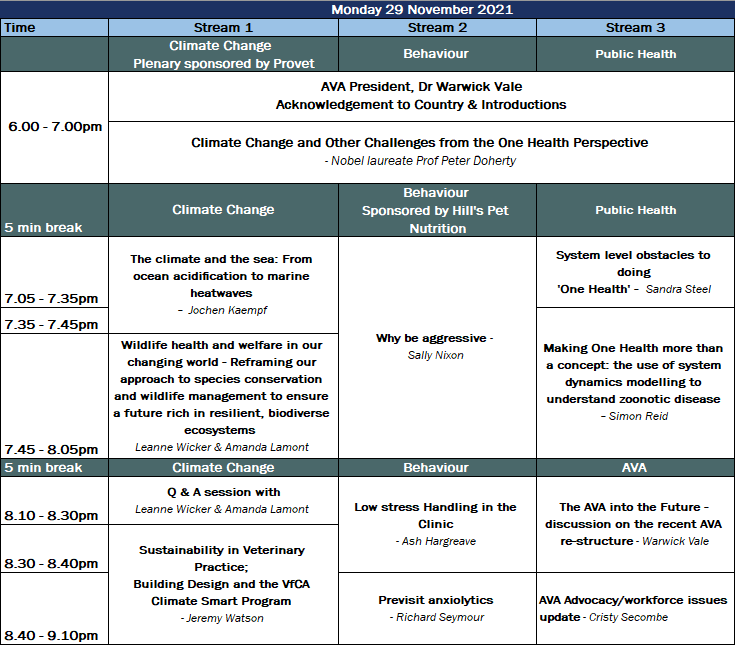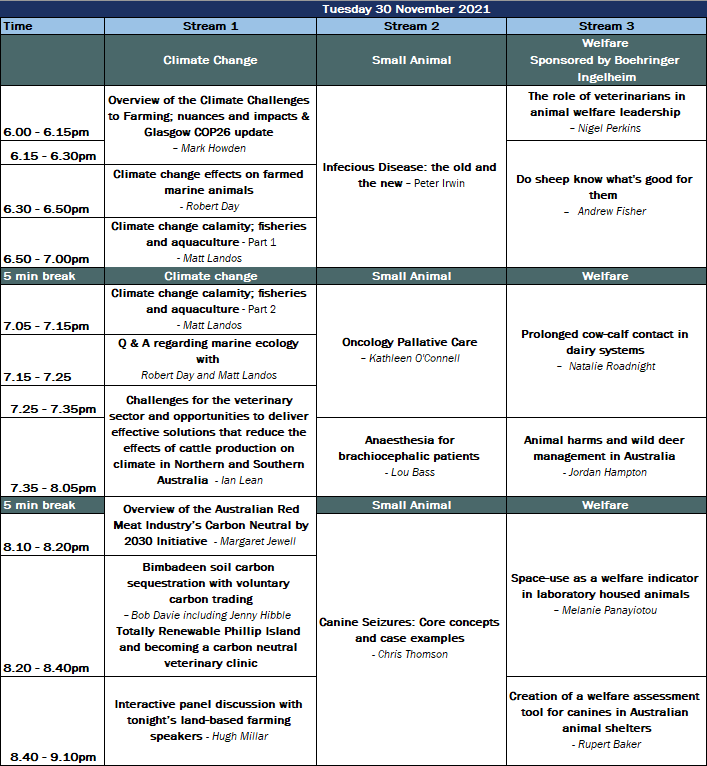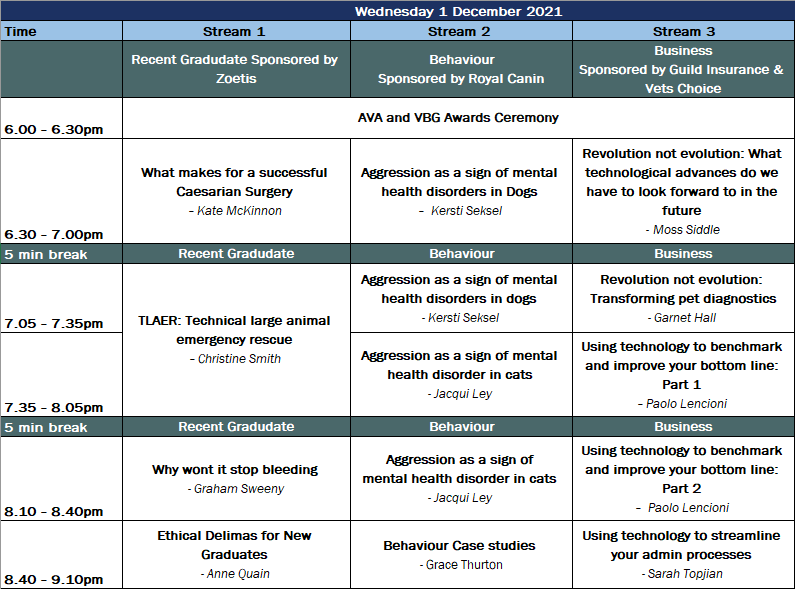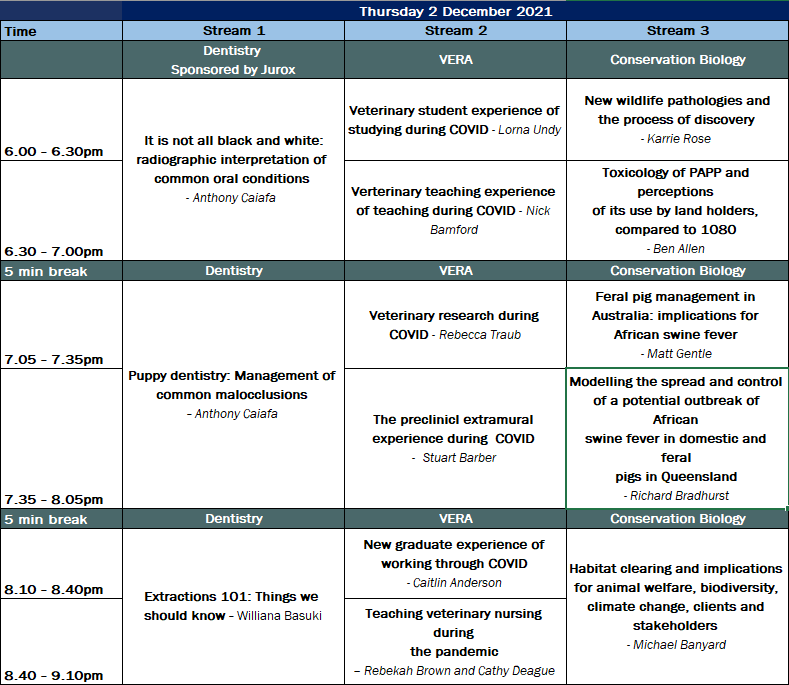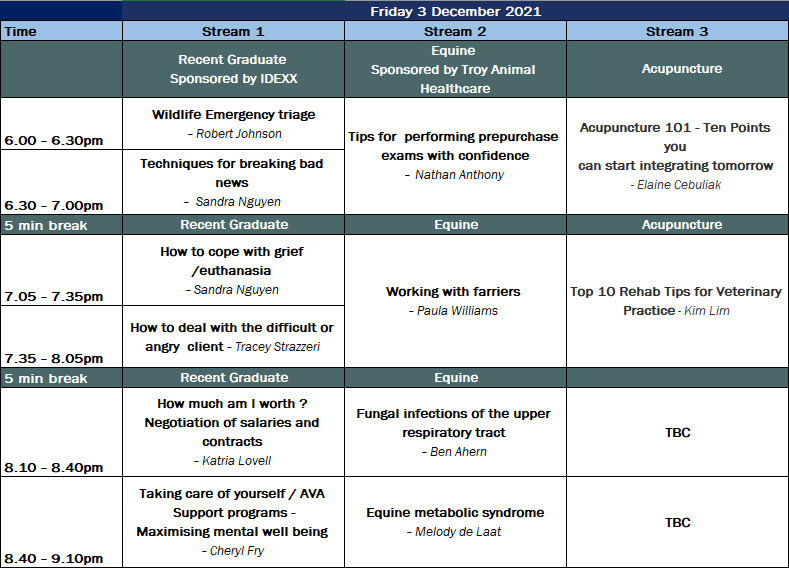 Further details
Live sessions for VetFest 2021 have now ended however you can still enjoy multiple talks on-demand! Recorded lectures are now on-demand for 6 months from July, until midnight Friday 31 December 2021.
Have question on how it works? Be sure to visit the FAQ page by clicking here.
Please click here for instructions on how to watch the sessions live and on-demand.


Please note:
When registering please keep in mind that access to the VetFest website is not instantaneous. You will receive your login details for the virtual conference platform (hosted on Delegate Connect) within 48hrs (Monday - Friday), along with information on how the conference will work and the program.
If you don't see your login email after 48hrs please try adding mailer@delegateconnect.co to your email accounts accept/white list and wait a few minutes, as your email system might be blocking it completely. Please contact events@ava.com.au for further assistance.
Join together

and save
Learn as a team/practice (AVA Members Only) and receive discounted pricing!
Register 5 - 10 staff and receive a 5% discount = $275.50 per delegate
Register 11 - 50 staff and receive a 10% discount = $261 per delegate
Register 51 - 199 staff and receive a 15% discount = $246.50 per delegate
Register over 200 staff and receive a 20% discount = $232 per delegate
To access this discount you need to comply with the following:
All attendees need to be an AVA member and from the same team/practice
Register all your attendees at once in a group booking
Payment for the group booking needs to be taken in one credit card transaction
For further information please contact the AVA Membership Team; events@ava.com.au
If you purchase registrations as part of a team booking, your VetEd Points will be allocated to the registered delegates only.
How do the VetEd points work?
Each attendee can earn up to 61.5 structured* VetEd points for VetFest 2021. Points can be earned by viewing talks live from Tuesday 11 May – Thursday 27 May or on-demand until midnight Friday 31 December 2021.
AVA members will have their points uploaded automatically to their CPD records at the end of each month until the end of December. Members can access their CPD records via the "My AVA Account" on the AVA website.
CPD points earned are based on your logins to the site and viewing hours for both live and on demand sessions. For further information on the AVA and how we track VetEd points for members please click here.
For any non-AVA members requiring a "Certificate of Attendance" to validate their CPD with the Veterinary Registration Board we can produce this on request once VetFest on-demand has completed in December 2021.